The world's first and only patented universal cell phone docking station and charger.
The patented Dock-N-Talk™ allows you to dock your cell phone and use your normal corded or cordless phones to make and receive your cell phone calls. This effectively turns your wireless service into "wired" service while your cell phone is docked. The Dock-N-Talk™ can be used in your home, office, dorm room, weekend home, boat, RV, ranch or any other location where cell service is available. You can also use the Dock-N-Talk™ instead of a land-line to connect to remote equipment (ie: irrigation controllers, auto dialing alarm and notification systems, ect.). D & J Enterprises also offers external antennas and boosters as well as a complete remote telephone system for locations where a phone line isn't available or is not cost effective.
Don't increase your cell phone bill by adding a "Home Phone" unit from your cellular carrier. Use your existing cell phone with a Dock-N-Talk™.
See what the Wall Street Journal had to say about the Dock-N-Talk™.
SEE A VIDEO DEMO HERE
Dock-N-Talk™ Supports Over 2500 Wireless Phones
ALL BLUETOOTH CELL PHONES WORLDWIDE ARE SUPPORTED!!!
Click HERE for older cell phone cable connection compatibility
The Dock-N-Talk™ has been used successfully for years with irrigation controllers, alarm systems, and other after-market DTMF controlled equipment. The Dock-N-Talk™ is the ONLY fully RF shielded device that will allow virtually any digital cell phone to connect to this equipment!
Dock-N-Talk™ offers these advantages:

Charges older cable connected phones - no dead batteries (Bluetooth connected phones must use their own charger)


Easily connects to any wired or cordless phone(s) system or via an available vacant land-line


Use your cell phone like a 2nd phone line without paying additional land-line fees



Place and receive calls on any properly wired phone(s) or system - NO special phones needed


Protect your expensive Smart Phone from damage by using home phones


Better sound quality because you're using a your home phone handset


No more searching for your ringing cell phone and missing calls - your cell phone stays in one place


Others on connected extension phones can join calls


Produces Dial tone & CPD (Calling Party Disconnect) signal


Utilize voice recognition, one-touch voice mail and SMS message alerts from your cell phone+**


Rings multiple connected phones including cordless phones


Fully RF shielded to prevent "Cellular Noise" interference


Put calls on hold and pick up at another connected phone*


Switch calls from "land-line" to Dock-N-Talk™ or conference together*


Automatic "Send" - You do not need to enter the "#" key at end of the dialing sequence


NOT network specific - works with all cellular systems


Sends Caller ID and Message Alert from cell phone to compatible remote CID units+


Discontinue local phone company service saving BIG $$$$***


Recommended
module interfaces wirelessly with all Bluetooth compatible cell phones (see photo above)
+Cell phone & system dependent
*Wired phone dependent
**Dock-N-Talk software Ver1.94 and above
***You can NOT use this equipment for data transmission (Explanation)

The Dock-N-Talk™ can be used with all Bluetooth compatible cell phones by using the
module (see photo at left). When you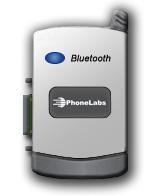 leave home with your paired Bluetooth cell phone, it will automatically disconnect from the Dock-N-Talk™. When you return home, your cell phone will automatically reconnect to the Dock-N-Talk™. No re-programming, plugging in cables, or manual docking required. The latest Bluetooth module can be paired up to 8 different cell phones, but only connects to one at a time. Multiple Dock-N-Talk™ units can be located next to each other to allow for mulitple cell phone use without interference on multiple phone lines. CLICK HERE for detailed information about using the Bluetooth module.
COMPACT - CAN BE WALL MOUNTED

Main unit: 4¾" x 4¼" x 1"


Bluetooth Module: 1 ¼" x 1 ¼" x 1"


Power requirements: 9V DC 700mah (110V AC adapter included)


Shipping weight: 2lbs

SPECIAL INFORMATION - PLEASE READ


DETAILED TECHNICAL SUPPORT


ORDERING AND CONTACT INFORMATION

Purchasing Phonelabs equipment from us guarantees you permanent "no charge" after sale tech support. If you purchase Phonelabs equipment from another source, we will charge $5 per call for tech support.
Dock-N-Talk™ graphics courtesy of Phonelabs. Updated 12/10/19