The world's first and only universal cell phone docking station telephone and charger that combines a land line or VoIP with cellular.
Universal 2-Line cell phone docking station telephone enables cell phone calls to be made and received through the telephone using the handset or speaker phone. Combine your land line or VoIP and cell phone on a single instrument. We also offer boosters that can increase a weak cellular signal.
Unity™ now supports over 2500 wireless phones
ALL BLUETOOTH CELL PHONES WORLDWIDE ARE SUPPORTED!!!
Click HERE for older cell phone cable connection compatibility
Unity™ Telephone offers these advantages:
Full Featured Desk Telephone Set
Separate Land Line and Cell Phone Line Keys
and Cable Docking Options
Manual "Bluetooth Off" Key
Make Landline or VoIP Calls from Cell Phone Directories
Conference Cell Phone and Land Line Calls
Centrex Compatible Land Line Dialing
Cell Phone Directory Transfer In and Out
Read and Write Text Messages
Auto Call Forward Feature
Access Call Lists and Redial Lists from Cell Phone
Hot Dialing Feature for One-Touch Dialing
Speed One-Touch Redial Key
Large Graphical Backlit LCD Screen
Speakerphone with Mute, Redial, and Hold
Ringing, New call, and Message LED Alert
Ringer, Speakerphone, and Handset Volume Contro
Accessory Port for Dock-N-Talk, Push-To-Talk, and PC Connections
One-Touch Cell Phone Voice Dialing and Call Last Number Redial
*Some features require cell phone support
The Unity™ phone can be used with all Bluetooth compatible cell phones by using the
module (see photo). When you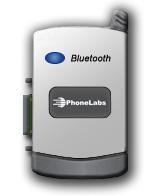 leave home with your paired Bluetooth cell phone, it will automatically disconnect from the Unity™ phone. When you return home, your cell phone will automatically reconnect to the Unity™ phone. No re-programming, plugging in cables, or manual docking required. The latest Bluetooth module can be paired up to 8 different cell phones, but only connects to one at a time. CLICK HERE for detailed information about using the Bluetooth module.
The Unity™ phone by itself cannot connect directly to external phones or systems without the addition of a Dock-N-Talk™ base unit. The Dock-N-Talk™ base unit generates the required stand-by voltage, ring voltage, Caller ID, and amplification to operate external phones.

SPECIAL INFORMATION - PLEASE READ


DETAILED TECHNICAL SUPPORT


ORDERING AND CONTACT INFORMATION

Purchasing Phonelabs equipment from us guarantees you permanent "no charge" after sale tech support. If you purchase Phonelabs equipment from another source, we will charge $5 per call for tech support.
Graphics courtesy of Phonelabs. Updated 12/10/19