Don't let your dog run free!
It might be found like this... if at all!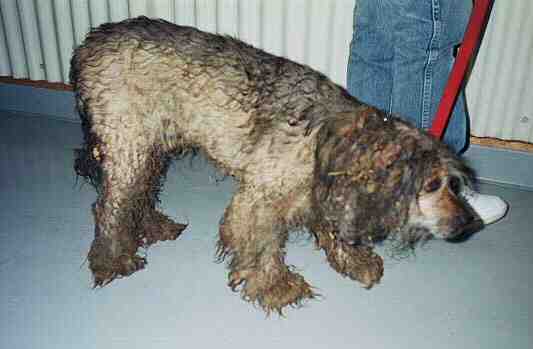 We found this poor 10+ year old Spaniel mix walking in the middle of a street after our last stop one Sunday evening. After a call to animal control, we rushed her to The Idaho Humane Society where they were waiting for us. There, she got food, medical care, and cleaned up. The poor thing was so matted that they could not even determine her sex until she had been shaved down. There were rose bush thorns, branches, leaves, and filth matted into her coat. Even her ears were matted shut. There were maggots living in open wounds and she was severely dehydrated and malnourished. They estimated that she had been running for over 2 months. They also found a collar under the matting with an outdated rabies tag.
The owners, who had NOT reported her missing, were severely lectured about the proper care of animals and had to pay well over $200 in fines, licenses, shots, medical treatments, boarding, and grooming costs. She was also "chipped" for possible later quick identification and the owners were told that they will NOT get her back should she be found running loose again.
Be a responsible pet owner and don't let your animals run loose!

This web site and all contents herein is copyrighted. Unauthorized duplication and publishing is prohibited by International Law. 2011