Active Line Installation

Remember, you will actually be installing a separate dedicated phone system that will operate independently of the phone company. You will need to purchase at least 1 "Tri-Plex" adapter to complete this easy installation.

"Tri-Plex" adapters are available at Office Max, Office Depot, most hardware stores, or anywhere that phone accessories are sold. A "Tri-Plex" adapter plugs directly into any properly wired RJ-11 phone jack and allows a single line device to connect to either Line-1 or Line-2 or a 2-line phone to connect to both lines. Be sure that the adapter is NOT one that just has 3 female jacks. A true "Tri-Plex" adapter splits the phone lines into 2 separate single-line connections and the packaging will tell you that. The adapter will also say "L/1, L/2, L-1/2" above the 3 ports.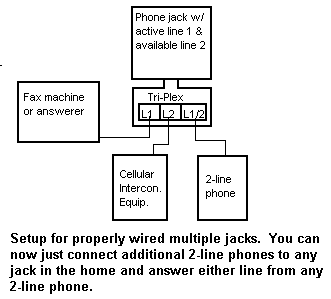 Plug a "Tri-Plex"adapter into the wall phone jack where you want to place your new interconnect equipment. Then plug the phone cord that comes with the interconnect equipment into the MIDDLE PORT (marked "L/2") of the "Tri-Plex" adapter and the other end of that phone cord into the phone jack at the back of the interconnect equipment. You will then need to use either 2-line phones, or additional "Tri-Plex" adapters at each phone jack to allow you to use a single-line phone, to access the interconnect equipment which is now connected to Line-2. The installation to a home phone system is now complete. Remember to always disconnect Line-2 at the telephone interface box on the side of your home so that the interconnect equipment will operate properly. See How To Disconnect Lines From The Phone Company.
Please follow the rest of the instructions that are packed with the interconnect equipment to complete the installation.