Alabama War Dogs Memorial Dedication Photo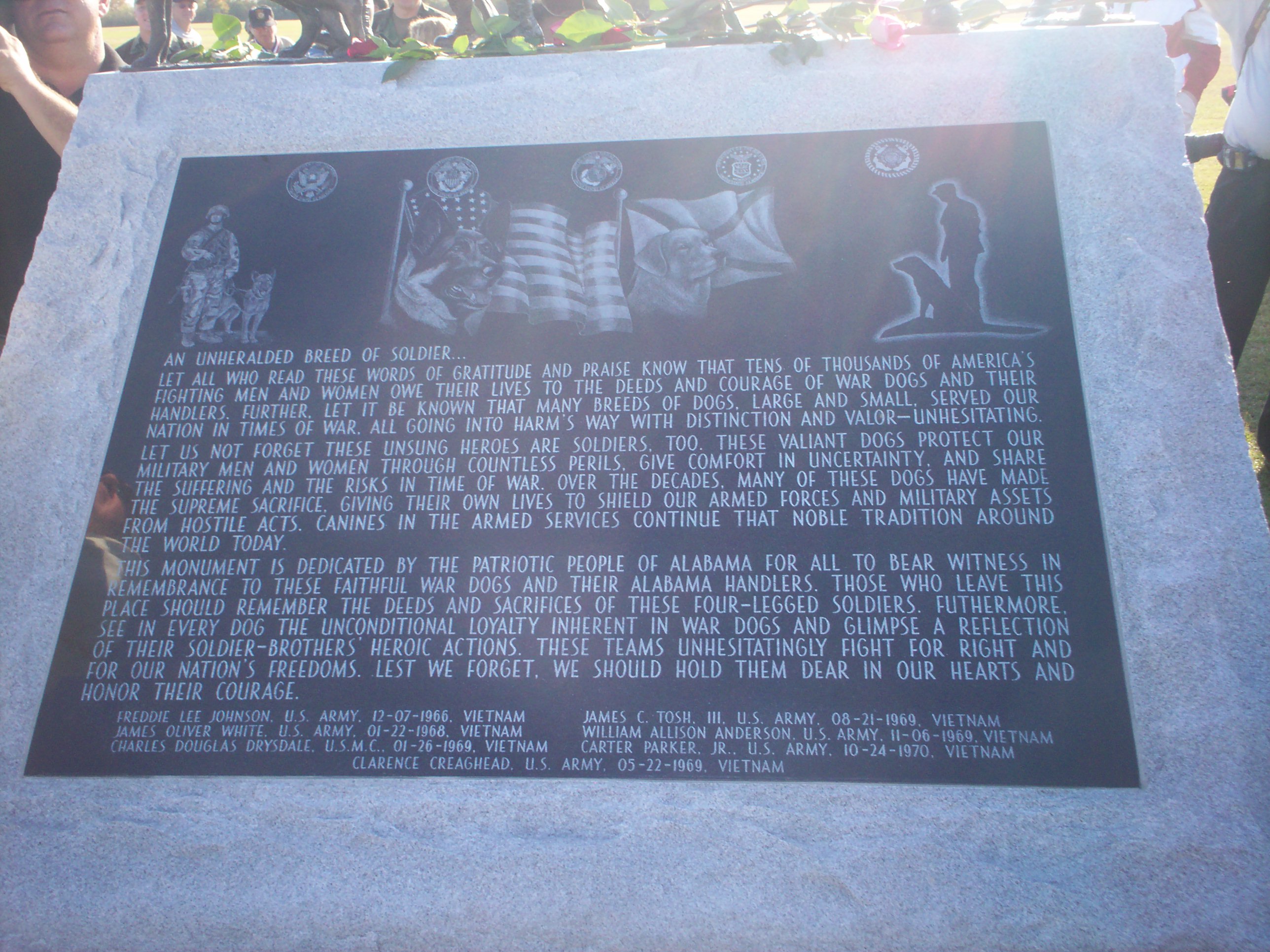 Memorial Front Dedication Statement Shown Above
AN UNHERALDED BREED OF SOLDIER
LET ALL WHO READ THESE WORDS OF GRATITUDE AND PRAISE KNOW THAT TENS OF THOUSANDS OF AMERICA'S FIGHTING MEN AND WOMEN OWE THEIR LIVES TO THE DEEDS AND COURAGE OF WAR DOGS AND THEIR HANDLERS, FURTHER, LET IT BE KNOWN THAT MANY BREEDS OF DOGS, LARGE AND SMALL, SERVED OUR NATION IN TIMES OF WAR, ALL GOING INTO HARM'S WAY WITH DISTINCTION AND VALOR – UNHESITATING.
LET US NOT FORGET THESE UNSUNG HEROES ARE SOLDIERS, TOO! THESE VALIANT DOGS PROTECT OUR MILITARY MEN AND WOMEN THROUGH COUNTLESS PERILS, GIVE COMFORT IN UNCERTAINITY, AND SHARE THE SUFFERING AND THE RISKS IN THE TIME OF WAR. OVER THE DECADES, MANY OF THESE DOGS HAVE MADE THE SUPREME SACRIFICE, GIVING THEIR OWN LIVES TO SHIELD OUR ARMED FORCES AND MILITARY ASSETS FROM HOSTILE ACTS. CANINES IN THE ARMED FORCES CONTINUE THAT NOBLE TRADITION AROUND THE WORLD TODAY.
THIS MONUMENT IS DEDICATED BY THE PATRIOTIC PEOPLE OF ALABAMA FOR ALL TO BEAR WITNESS IN REMEMBRANCE TO THESE FAITHFUL WAR DOGS AND THEIR ALABAMA HANDLERS. THOSE WHO LEAVE THIS PLACE SHOULD REMEMBER THE DEEDS AND SACRIFICES OF THESE FOUR-LEGGED SOLDIERS. FURTHERMORE, SEE IN EVERY DOG, THE UNCONDITIONAL LOYALTY INHERENT IN WAR DOGS AND GLIMPSE A REFECTION OF THEIR SHOULDER-BROTHERS HEROIC ACTIONS. THESE TEAMS UNHESITATNGLY FIGHT FOR RIGHT AND FOR OUR NATION'S FREEDOMS. LEST WE FORGET, WE SHOULD HOLD THEM DEAR IN OUR HEARTS AND HONOR THEIR COURAGE.
Download Video of Dedication Ceremony - Courtesy NBC 15 (10+Mb)

For information or questions about this page contact: webmaster