PROFESSIONAL PET SITTER'S INFO
Bonding and Insurance - Questions answered
How to get a Credit Card Merchant Account
Heat warning for vehicles for use in Idaho
PROFESSIONAL PET SITTING FORMS PACKET
The packet of 18 forms and instructions listed below is available to anyone interested in becoming a professional pet sitter.* You do not have to be a member of any pet sitting organization to order these forms and you won't be forced to be listed on any pet sitting forum or e-mail list. Pet sitting organizations often can take several weeks to get their expensive copyrighted Pet Sitting Contract to you and you don't get all the other forms that is included in this packet. Some of the other forms packets available are way more expensive and may not include all the forms listed here. For example, you may have to pay extra for a "Vet Authorization" form. You also often pay for forms that you have no need for, especially if you use professional accounting software. These forms are all you need for your pet sitting business. Your complete packet of copyright-free forms will be on it's way to you within 24 hours after receipt of payment. You can also download this packet (see below).
All these forms are contained on a CD ROM in ".doc" format, except where noted. The forms are already modified on the disk for easy editing for your personal use. You simply copy the CD ROM "Pet Packet" file into your "Documents" folder on your computer's hard drive. Then just open the form you want located in that file, enter your personal business information, store your newly edited form back onto your hard drive, and print them out. You can have your own personalized professional pet sitting forms ready to use in less than an hour after receiving your packet. You can order either the "Complete Packet" that includes the CD ROM and all the actual paper forms we use everyday or just the CD ROM alone. Sorry, there are no refunds as this packet contains material that is easy to copy. CD's are quality checked prior to shipment.
*I will not sell these forms to a potential competitor in SW Idaho. Please go to our rates to see our service area.
The following forms and documents are included:
Instructions on Using the Forms
Professional Pet Sitting Contract
Pet Sitting Work Sheet & Authorization To Enter Client's Property
Pet Sitting Notice to Emergency Personnel to be placed inside client's home
Home Security Check Contract
Home Security Work Sheet & Authorization To Enter Client's Property
Home Security Emergency Notice to Emergency Personnel to be placed inside client's home
Pet Boarding Contract
Pet Boarding Work Sheet
Animal Custody Release Form (releases boarded animal to authorized representative of owner)
Animal Release for Adoption (releases ownership of pet to you allowing you to find a home for the pet)
Pet Sitting Customer Survey
Our References sheet (use as a guide and edited for security reasons)
Our Current Fee Structure (use as a guide)
How to Set Up a Key Tag System that works and is secure
*Veterinarian Authorization Card (you send this to the client's vet)
*Our Current Color Flyer
*Our Business Card
*Copy of our current brochure
* This un-edited form is an Adobe Acrobat (.pdf) file as an example only and is not in .doc format.
The "Professional Pet Sitting Contract" was developed by 2 other U.S. sitters, myself, and an attorney. It will stand up in court. This single-page contract is designed to be printed single-sided on 8 1/2 X 11 NCR duplicate paper. This is the only form that should be printed by a professional printing service.
I have had some requests from sitters that also do only home security checks where there are no animals involved. I now have a contract, work sheet, and emergency notice for home security checks included on the CD ROM and in the packet as listed above.
A few people that have requested my packet had a Apple™ computer or did not have Microsoft Word™ and could not open the .doc files. You can download OpenOffice™ that will open a variety of documents and will give you the same benefits of Microsoft Office for FREE. Click HERE to go to OpenOffice™ to download the proper program for your computer system.
E-MAIL/DOWNLOAD SERVICE

You can also get my Professional Pet Sitting Forms Packet E-mailed to you or you can download it from my server. A broadband connection is required for this service. You save the S&H charges and you get the all the same forms and info that is on the CD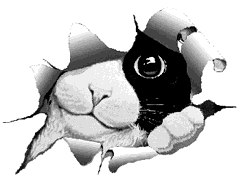 ROM immediately instead of waiting several days. (The actual CD ROM is sold separately.) PLEASE specify if you want to do the download or if you want me to E-mail the packet to you when you order as I am not a mind reader. Also, I ABSOLUTELY MUST have a valid phone number to set up the file transfer, to arrange for payment, and if there is a problem with E-mailing the packet to you. I will set up any date and reasonable time for the download to accommodate you. Click on the "Winking Cat" at right to take you to the download page.
PLEASE NOTE: Before you request to have the packet E-mailed, check with your E-mail client server to be sure it can accept up to a 3 Mb attachment. E-mail has bounced to a few people that have requested the packet via E-mail because their client server wouldn't take a 3 Mb attachment. Downloading the packet from my web site is best if you want immediate delivery. See below for pricing and ordering information.
Complete Packet: $20 + S&H charges
Includes all actual paper forms above and CD ROM
CD ROM only: $17 + S&H charges
No paper forms included
E-mail/Download only: $12 (No S&H charges)
CD ROM sold separately
SHIPPING & HANDLING CHARGES
PLEASE SPECIFY HOW YOU WANT YOUR ORDER SHIPPED
FedEx Ground usually takes up to 5 business days and FedEx can only be delivered to physical addresses. Priority Mail is 2 to 4 business days to most locations in the U.S. including PO Boxes, but Priority Mail shipments have been lost or delayed. The charges below also include a small handling fee. Figure your total cost accordingly.
Priority Mail = $5.15
Global Priority Mail = $17
Global Express Mail = $38
All FedEx Services = CALL FOR QUOTE
ATTENTION HONORABLY DISCHARGED VETERANS
I now offer E-mailing or download of this packet to any honorably discharged Veteran at absolutely NO CHARGE! I am a member of The American Legion as you can see from other information on Eagleid.com. I am doing this to help veterans get into the pet sitting business. I know it doesn't seem like much, but FREE is still FREE. You must tell me that you are a honorably discharged veteran and I will call you back and ask specific information that only an honorably discharged veteran can answer. You will then be qualified for the FREE E-mail/download packet. There are no additional charges and no gimmicks. If you want the mailed versions, I will absorb the Priority Mailing charges, but you still must pay for the packet or CD ROM. Your information is safe and not recorded.
Douglas Foote - Owner/Developer
ORDERING AND CONTACT INFORMATION
Updated: 8/23/15